– Residents –
Our residents enjoy spending time with each other. They are committed to solid family medicine training and are eager to explore what it means to be a physician with a global health perspective. The residents work as a team in an encouraging atmosphere. Though their training is rigorous, schedules ensure time for family, personal spiritual growth and recreation.
First Year
Laura Bell, MD

Michigan State University


Jordan Dever, MD

Caleb Jones, MD

Angel Leo, DO

Mackenzie Monigold, MD

Nataniel Ng, MD

Stacy Philip, MD

Texas Tech University Health Sci

Justin Puia, DO

University of North Texas Health Sci

Stephen Shannon, MD

Hannah Shy, MD

University of Arizona COM
Second Year
Daniel Bancroft, DO

Ohio Heritage COM


Tim Choy, DO

University of New England

Victoria Chung, MD

Chris D'Silva, DO

Michelle Hanson, DO

Yun Li, MD

John Scott, DO

Pacific NW University COM

Abigail Wheeler, DO

Daniel Whitcomb, DO

Sean Wilson, DO

Sean Wilson, DO Edward Via
Third Year
Beatrice Abraham, DO

Renee Cherian, DO
Chief Resident

Shawn Cherian, DO
Chief Resident

Austin Davis, DO

Ella Kuchmiy, DO

Pacific Northwest University

David Lau, DO

Caleb Owsley, MD

Kaitlin Sauser, DO

Alvin Wong, MD

Sechenov First Moscow Univ

Glenna Wong, MD
– graduates –
Over 290 doctors have graduated from our residency program. Fortunately, we are able to keep in contact with most of them through our In His Image Alumni Association. They are working in a variety of locations and a variety of medical practice settings. Although only 10-15% of our residents come from Oklahoma, nearly 25% of the IHI graduates have decided to practice medicine in Oklahoma – many of whom are serving in inner city Tulsa and the greater Tulsa area. Fifteen percent of IHI graduates are currently serving as long-term global health workers and another 10% are serving in Indian Health Service and other underserved populations in the U.S. Most who live in the states are actively involved in domestic or short-term international health outreach, and many are involved in medical education as part of their careers.



---
– Faculty –
We believe if residents are well trained and fully trained, they will become like their teachers. Therefore, the caliber of our faculty, our teachers, is of utmost importance. Every In His Image faculty member is passionate about their faith and view the practice of medicine as a calling and ministry. They are all active in clinical practice to ensure up-to-date skills and knowledge and to serve as a quality example for training residents. In addition to our core faculty, about 50 partner physicians in the community teach our residents their specialty during rotations.
John Crouch, MD

Executive Director

Emeritus

Mitch Duininck, MD

Clay Powell, MD

Senior Associate Residency Director

Chris Place, MD

Associate Residency Director

Ashley Hildebrand, MD

Assistant Residency Director

Ed Rylander, MD

Designated Institutional Official

David Simpson, PhD

Behavioral Medicine Director

John McVay, M.Div

Matt Acker, MD

Brandon Ganzer, DO

Jacob Greuel, MD

Matt Haney, DO

Chris Jenkins, MD

Scott Keller, MD

Sarah Santillano, MD

Chase Ledbetter, DO

Joel Leitch, MS

Erin Morgan, MD

Michelle Satterlee, Psy.D

Enis Sakirgil, MD

Laurel Williston, MD
Administration
Our administrative team is comprised of outstanding individuals who love God and have a heart for people. In His Image has a high retention rate of staff, all of whom happily offer exceptional support to our faculty and resident physicians.
Cassie Casto

Kim Conners

Lillian Hamilton

Norma Jones

Kristen Kisakye

DeLayne Kollross

Kelli Potter

Connie Rice

Michelle Carter Riehl

Missy Sistrunk
– city –
Our City
Tulsa
We love calling the riverside city of Tulsa home, with its numerous parks, many nearby lakes, over 1,000 restaurants, extensive retail shopping, plethora of churches and genuinely friendly people. It is a progressive city in America's heartland where you can feel good about bringing your family. Tulsa is home to two world-class art museums, ballet, opera, theatre and an outstanding philharmonic orchestra. Another very real benefit: salaries stretch farther in Tulsa. While the quality of life here is high, the cost of living is comfortably below the national average.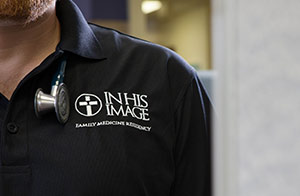 Tulsa is also an important center of business and technology with thriving businesses in energy, technology and communications, finance, medicine, education and transportation. "Newsweek" named Tulsa one of ten strong emerging technology cities. "Southern Living" magazine named Tulsa one of its "Five Favorite Southern Cities." Tulsa was selected as one of America's Most Livable Communities by the Partners for Livable Communities and was chosen one of the Top Ten Places to Live by "Relocate America." Visit these websites for more information: travelok.com and visittulsa.com.